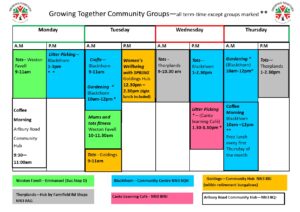 Growing Together runs a variety of groups and activities for local people to join. The groups provide opportunities for local people to meet others and make friends in their community. Some groups are term-time only, others run all year round. We are currently running groups at 6 different locations:
Blackthorn Community Centre, Blackthorn Bridge Court, NN3 8QH
Weston Favell, Bus Stop D, Lings Forum side  (through Emmanuel Family Space entrance)
Thorplands Hub, Farmfield Court, NN3 8AG
Goldcrest Community Hub, Goldcrest Court, Goldings, NN3 8XJ
Arlbury Road Community Hub, Arlbury Road, NN3 8QJ
Canto Learning Cafe, Tonmead Road, NN3 8HU
Come along to our Christmas Event this year.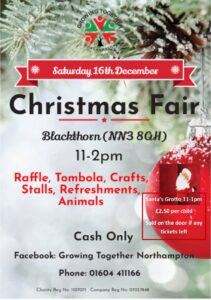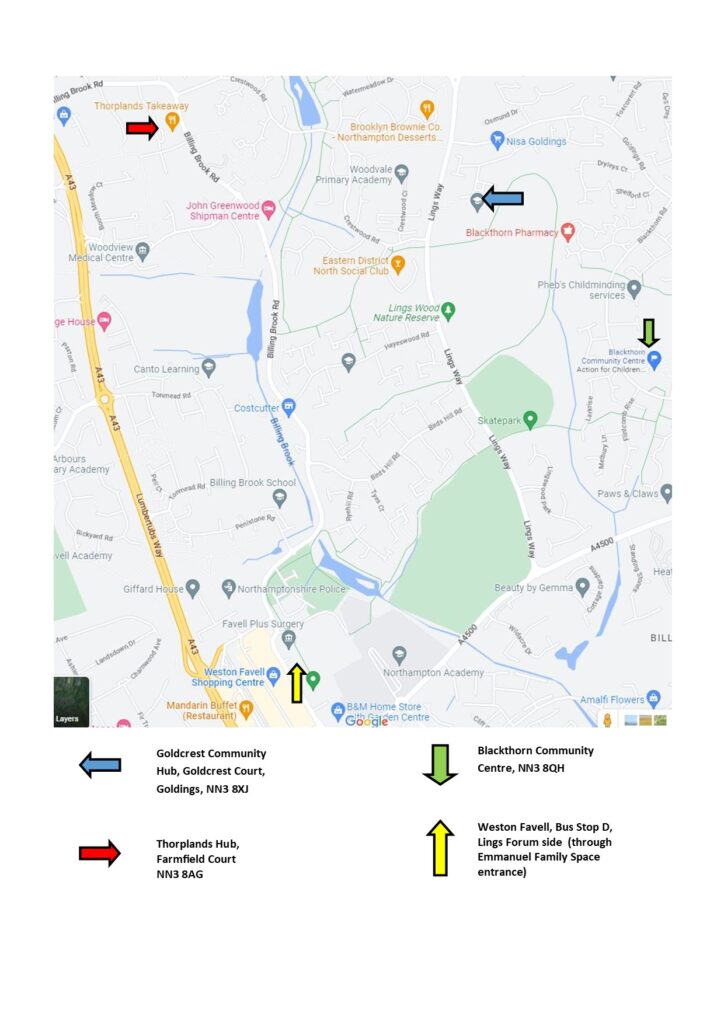 Community Groups Include:
Womens's Wellbeing with Spring. Weekly Women's only group. Includes activities, a chat, light lunch and refreshments. Every Tuesday at our Goldings Hub venue 12:30 – 2:30.
Mum's and tots fitness. Working with women to develop their pre and post natal strength and fitness. Tuesdays at our Emmanuel Space at Weston Favell 10:00- 11:30. Equipment provided. Refreshments provided. Bring little ones ages 0 – 5, they can play or help you work out. All welcome no matter where you are on your fitness journey. Do something for you as a mum.
Coffee Morning We run 2 coffee mornings, have a hot drink with your local community and enjoy the warm space. We run one every Monday morning from Arlbury House 9:30 – 11:00, and one every Thursday morning from Blackthorn 10-12. The first Thursday of every month we also provide a free lunch.
Craft Come and learn new skills or share the ones you have whilst making new friends. Every Tuesday at Blackthorn. Anyone welcome, you can even bring your crafts from home.
Litter Picking. We run 2 litter picking groups in partnership with Northants Litter Wombles. Equipment available. Wear appropriate clothing. Mondays 1-3pm from Blackthorn Community Centre, and Wednesdays from Canto Learning Cafe from 1:30-3:30. Do something good for your community, whilst making friends and finish off with refreshments.
Gardening. No experience needed. Come and learn how to grow, care for and then take home your own produce. Every Tuesday and Thursday 10 – 12 at Blackthorn Community Centre.
Tots. Free and open to all parents, carers and children 5 and under. Lots of activities including lots of messy play.
Growing Together run various activities during the school holiday's including Family Fun, Litter Picking, Gardening, Coffee Morning's and Arts & Crafts. We also join Emmanuel Church to support FISH on a Tuesday (Food and Fun in School Holiday's). All free and everyone welcome! Activities will be posted on our facebook page: 
https://www.facebook.com/GrowingTogetherNorthampton